Overview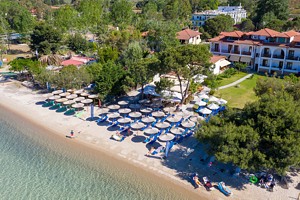 The studios and apartments of the Konstantinos Psarogiannis family are situated in the heart of Vourvourou.
This family business is made up of 2 buildings. AKTI HOUSE which is on the beach, amd GARDEN HOUSE 150 m from the sea.
Here you'll find 2-bed, 3-bed and 4-bed studios or apartments, suitable for couples or families and can accommodate from 2 to 5 people.
Both buildings are surrounded by beautifully green gardens and have convenient and safe parking areas. On our sandy beach, ideal for young children, you'll be able to enjoy Vourvourou's crystal clear, warm waters all day. Also, beach chairs and umbrellas are offered with charge.
In Akti House we operate a shop selling traditional pies, ice cream, sweets, pizzas and crepes, that has a breakfast area for our guests. Also, in the garden, just a few meters from the sea, there is a Cafe-Bar where you can enjoy your coffee or drink from morning until night.